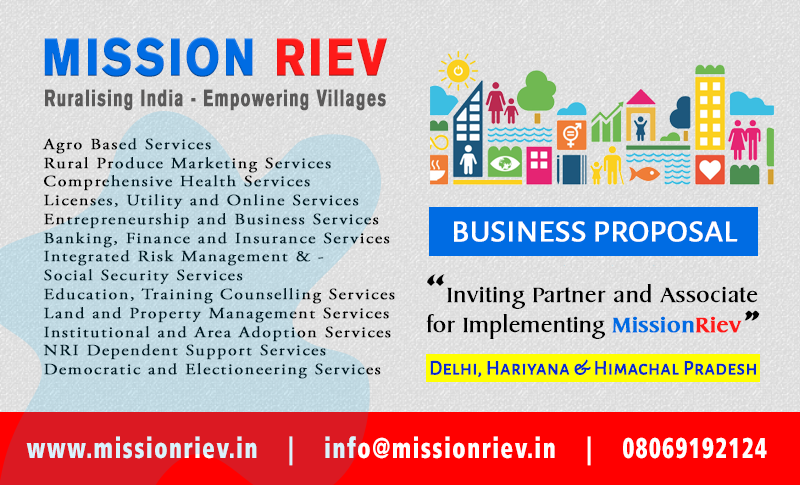 EOI - MISSION RIEV

INVITATION FOR EXPRESSION OF INTEREST

TO PARTNER AND ASSOCIATE IN ACTION FOR IMPLEMENTING MISSION RIEV

AT BLOCK AND DISTRICT LEVEL IN THE STATE OF HIMACHAL AND HARYANA

For Whom - NGOs, Schools, Colleges, Trusts, Societies, Entrepreneurs having presence in at least any one Block or District in any one of the available states

Available States : Delhi, Haryana & Himachal Pradesh

Last Date: October 31st 2022

Mode of Submission: Online Application Submission in Prescribed Format.

(Rejuvenating Economies - Empowering Villages)

-> Towards Uplifting Standard of Living through implementation of Sustainable Developmental Goals (SDGs)

-> A collaborative Initiative of IIRD, Shimla under Patronage of ARISE INDIA NETWORK

Version 4.0 | Resolving Multiple Problems with a Single Initiative

For piloting in any Developing Country | Public - Private Partnership Model making societies resilient

About Mission RIEV

Mission RIEV: Proposed for piloting in any province of any developing country especially in Asia and Africa, Mission REEV has been evolved as a tool to target multiple socio-economic problems with single initiative and boost rural economy unimaginably. The REEV model already tested in Himachal state in India under the patronage of ARISE INDIA - A network of United Nation Disaster Risk Reduction (UNDRR) in India, can become the Renaissance of 21st Century.

The Rationale: : "An Uncertain Risk is an Ignored Risk" especially when an individual has to pass through a constant struggle just for survival. This implies that an individual may under estimate the risk associated with the disaster like situations which does not have any confirmed timeframe to occur and can happen anytime, as long as one's struggle towards maintaining basic living conditions is continued. Additionally, when an individual loses hope to receive instant support for surviving, recovering or progressing, the situation becomes like disaster for the individual , irrespective of the causes and is a subtle form of disaster. Apart from the physical effect of disasters, like earthquakes, floods, drought, fires, epidemic, etc., the subtle form affects the mentale of the individual intensively. The physical aspect does have the defined and structured mitigation measures and processes, but the subtle aspect does not have, any such remedies.

As the disaster for a common person is the moment when one loses hopes of instant support when required, there is need to create platform or network whereby people especially of rural background, away from quick first response, get instant support not only in the situations like physical disaster but in every aspect where one starts losing hope from life. The risk of the disaster can be effectively reduced once we have support and facilitation system available for everyone.

Institute for Integrated Rural Development (IIRD), a developmental organisation, has been experimenting with the newly conceived facilitation support system under the patronage of ARISE INDIA Network and the name of the Initiative planned for developing countries outside India is Mission REEV (Rejuvenating Economies -Empowering Villages) meeting all the parameters enshrined in SDGs laid down by the United Nations.

Proof of Concept: Having piloted it in one of the states in India named Himachal Pradesh, for last 2 years, this entire process has witnessed multiple effects like
Creation of abundant employment opportunities to the youth in their parent villages; hence minimizing migration.

Implementing all the 17 SDGs which has resulted in improving the standard of living of people in the villages.
People from cities / metros and some from abroad are coming back to their roots; hence promoting Reverse Migration.
Through various facilitation support; it is becoming instrumental in enhancing production and marketing system of rural produce; hence boosting rural economy.
Creating rural markets for the MSMEs and promoting rural economy
Leaving no-one behind and Caring for Uncared
And finally, formulating and training First Response Force for immediate rescue and relief in case of an emergency or a disaster or emerging disaster like situation.
We foresee to create the employment opportunities to around 7-10 Million people in India within next 5-10 years once the concept is replicated across country. And we are equally keen to partner with different countries especially the developing and under developed, to launch such ambitious programme of serving the humanity in most economical way.
Goal: The goal of Mission REEV is to activate people by deploying trained human resource (locals) in each cluster of hamlets on self-sustainable employment basis while promoting rural development by supporting people and providing services, which are not easily available in the localities, right at the doorsteps of the people.
Objectives: The specific objectives of Mission REEV are:
To create employment opportunities at multiple levels.

To minimize migration and promote reverse migration - from cities towards villages.
To minimize individual worries of the people irrespective of the magnitude & dimensions.
To minimize social disharmony.
To promote rural economy by enhancing production and make villages SMART.
To improve the standard of living of villagers and thus implementing provisions of all 17 SDGs.
Strategy: To achieve this goal, Mission engages youth, especially from the rural milieu, who are well-acquainted with the issues faced by people residing in the villages. These youths are selected through a systematic recruitment process followed by training programme through in-house built IT based Learning Management System(LMS). These youths visit their villages, make holistic Needs Assessment of the families enrolled as members and extend services for low cost within specified minimum timeline at door step. The services include income generating support as well.
Social Business Model of Mission REEV
On the Analogy of Mission RIEV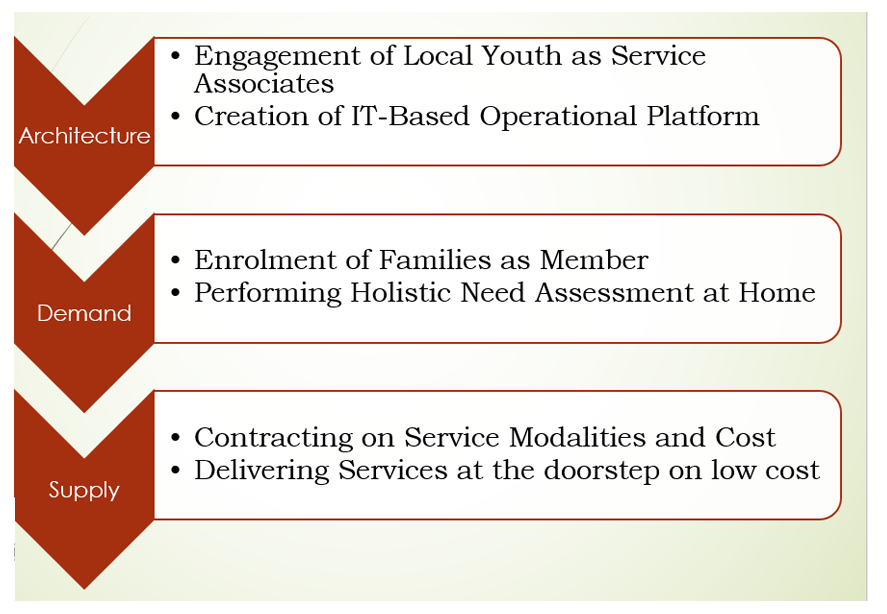 Community Architecture Under Mission REEV
Addressing Integrated Risk Management
COLLABORATION PROCESS: The collaboration process for launching Mission REEV in any developing country shall have the following phases:
1. Presentation on the Concept: On the invitation and facilitation support of the country expressing interest to launch Mission REEV, IIRD Delegates under ARISE INDIA shall visit the country concerned and make presentation on the modalities.
2. Agreement in Principle: Based on the dialogue with the representatives of the country, IIRD under ARISE INDIA and the Country concerned shall sign an agreement in principle to support 3 months study of the targeted geographies, governmental initiatives and the potential analysis.
3. Submission of Comprehensive Action Plan: Based on the study, IIRD Delegates under ARISE INDIA shall submit and present a comprehensive action plan to the government concerned for further approval and go-ahead nod.
4. Preparatory Phase: As per approved financial plan, Team IIRD shall launch the Mission under ARISE INDIA and make all necessary preparations before full-fledged launching.
5. Formal Launch and Periodic Review: The Mission shall be launched to its full extent and periodic joint review shall be exercised to ascertain the defined benchmarks are achieved.
Service Divisions under Mission REEV
Future Potential: Creating employment opportunities for one educated youth per 200 - 300 people in any geography through facilitation support in different fields, can bring welcome and fast changes in the economy where every individual will not only feel more safer in terms of need during emergencies, but the boost to the local economies will be significant. Maximum people shall get benefitted under Government programmes, policies and developmental schemes with due promotion and facilitation. A couple of examples of REEV Interventions in India are attached as Annexure 1 & 2.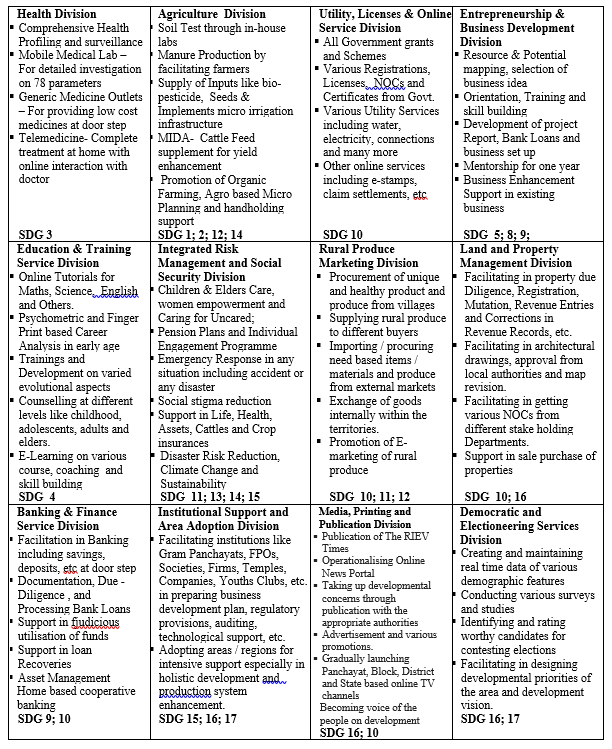 Example of Interventions: Annexure 1
Preventing Likely Medical Disaster - A Case Study
One worrisome incident shook people of India's Thalla village in the state of Himachal Pradesh in October 2018, when a family's cow went rabid and died, a few days after being bit by a rabid dog. But to everyone's shock, before the cow died, its milk had been consumed and the food prepared from it was served in a religious ceremony in the household as well as a temple in the village, which was attended by at least a few hundred people from several other villages as well. The family who owned the cow got themselves vaccinated but most of the other people in the same village did not take the matter seriously and did not consult the doctor either. But fortunately, IIRD's Mission RIEV team heard about the incident and took concrete measures to mitigate the situation and prevent any casualty.
The team reached out to the administration and the health department to chalk out the plan together and tackle the situation. The team also went door to door, making people aware regarding the seriousness of the situation and why they should get vaccinated. The Coordinators of Mission RIEV covered the distance of several hours on-foot on the rugged terrain to visit the people of other affected villages to warn them of the impending risk that could harm them, lest they failed to get the medical attention. Every step was taken to ensure that no one may be left without vaccination and the people who were hesitant to get the shots due to financial constraints were counseled about the available government support.
In the shortest possible time, the Mission RIEV team, made sure to inform, warn and get people to visit the medical institutions and get themselves vaccinated. Though there were several people who did not take the matter seriously, but Mission RIEV team remained determined to completely prevent any undesirable situation from happening.
Mission RIEV team additionally organised an awareness meeting for the people to further aware them of the risks of rabies. Thus, all the affected villages' people eventually got the highly necessary medical attention and the situation of mass hysteria was brought under control without any damage; even the possible rabies epidemic was smothered before it could claim any life. Mission RIEV handled this entire incident just like any calamity and gave it the required attention and resources wherein its clinical and social effects were carefully studied and people were accordingly enlightened.
Three months after the incident, Mission RIEV team again visited Thalla village and other villages to make sure that no one was left untreated and that the symptoms of rabies did not appear in any individual. The efforts of team Mission RIEV were also appreciated by all the people and the local administration.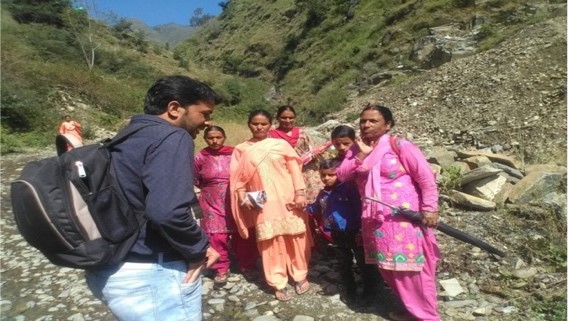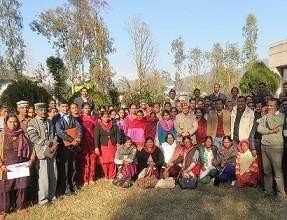 Example of Interventions: Annexure 2
Massive Awareness Against Drug Abuse in Himachal - A State-wide Campaign
Himachal Pradesh (HP) is one of the fast-developing state of India which has won several accolades in sectors such as Health and Education, growth index, but in recent years, the state has witnessed a staggering rise in drug abuse cases among the youths. The HP administration has been fighting tooth and nail to tackle the drug abuse menace but the ubiquitous availability of drugs has made it impossible for the government to handle the issue all by itself, therefore, it is essential that local organisations and other groups should come together to curtail this issue, for which Institute for Integrated Rural Development (IIRD) through Mission RIEV has been playing its due part through our anti-drug campaign which has been active at the state level.
IIRD, through its flagship programme MISSION RIEV launched the anti-drug campaign on September 5, 2018, with the motto "ज़िन्दगी जियें... नशे को नहीं" which translates to :Live Life... Not Drugs".
The campaign successfully touched upon the lives of countless people across all the 12 districts of Himachal covering 104 educational institutions and this mass awareness campaign was promoted using various platforms encompassing Social Media, Print Media, Electronic Media and principally the participation by the community through rallies, meetings and various competitions in schools. Our main aim was to make children, adolescent youth and adults of impressionable age to understand the ill-effects of drug use and how all these things, though may seem enticing, destroy lives. Many previously unknown cases of children who had been a victim of drug abuse were identified, who were attended by their families to provide them with much-needed care and support. the competitions were held at the block and panchayat level, the winners of which qualified to participate at the state level and the winners of each contest were awarded prizes and certificates for their effortful participation.
The campaign's Phase-I was a massive success which culminated on October 2, 2018, where Mr Suresh Bhardwaj, the Honourable Education Minister of HP, visited IIRD's headquarters in Shimla and appreciated us for shouldering this responsibility. That same day IIRD launched Phase-II of "ज़िन्दगी जियें... नशे को नहीं" with the aim to carry this campaign forward and achieve 100% success in rooting out this menace completely. At present, we are actively sharing this message frequently through our social media portals besides different interventions.
PDF DOWNLOAD
Download PDF for Agreement
Download PDF for NIT EOI
Download PDF for EOI - RIEV
Download PDF for Financial Calculation
Download PDF for FAQ